Alibaba Cloud Eco Summit New Delhi 2018
Please join us for the annual Alibaba Cloud Eco Summit 2018 .
This exclusive event is designed for Partner CXOs and will give you a chance to learn more about our partner program, growth strategy for Partners, and the incredible customer outcomes Alibaba Cloud is delivering. This event would also provide an opportunity to network with Alibaba Cloud team and your industry peers.
Agenda: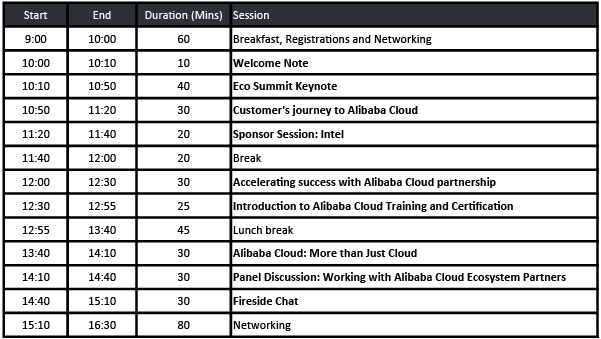 Reasons to Attend the Alibaba Cloud Eco Summit:
Sessions at the event will cover a wide range of topics relevant to Partner CXOs. .
● Learn how customers are using the Alibaba Cloud platform to drive innovative outcomes.
● Learn about our partner program.
● Learn how to increase revenue with Alibaba cloud and gain greater competitive advantage.
● Hear customer success stories, network with your industry peers and the Alibaba Cloud team.
Interested to attend Eco Summit in other cities, click here: